'Not since Faulkner have I read American prose so bristling with life and particularity.'
--J.M. Coetzee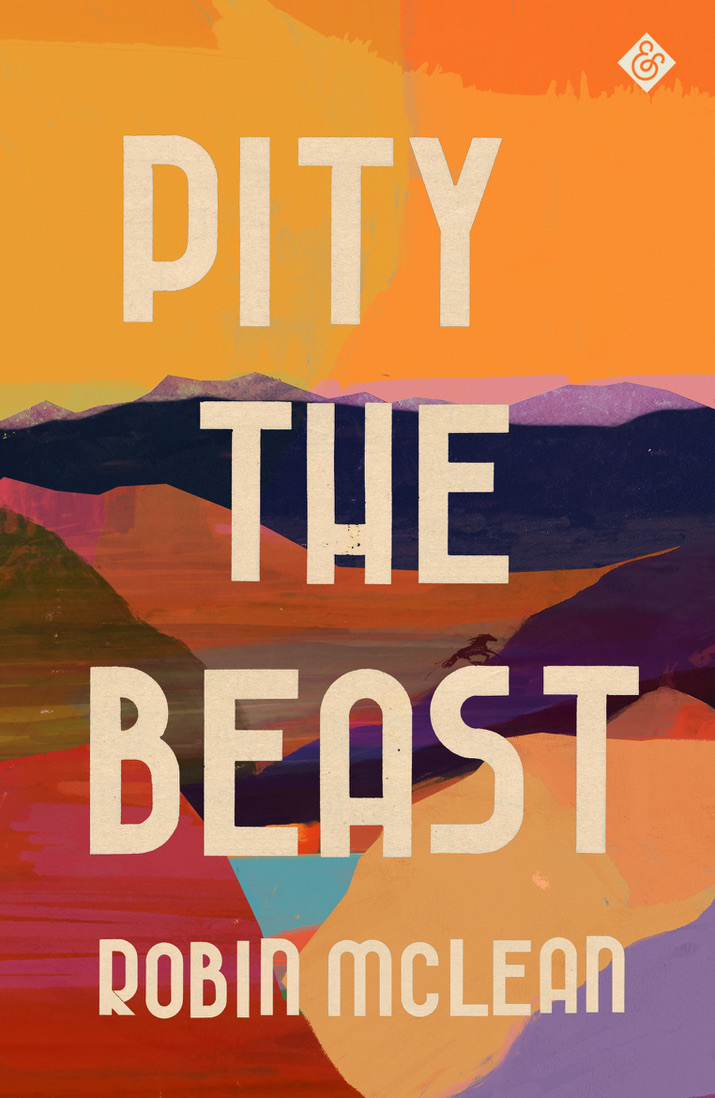 A "stunning debut novel" -- New York Review of Books
A Best Book of Fiction of 2021, The Guardian
'a revenge western with a freewheeling spirit, is a gothic treat.'
'Pity the Beast is one of those that takes off the top your head, both with its cascading verbal brilliance, and the power with which it employs our archetypes of violence, pursuit and survival. It's as real as a dream in which every impossible thing arrives already known yet glinting with new meaning, like a fire.'
-- Jonathan Lethem
A Book of the Year - The White Review
A Best of 2021 - Nation-Cymru
Best Fiction of 2021, Two Dollar Radio
A Book of the Year, Mr. B's Book Emporium
An Indie Next Pick for November 2021
Long-listed for 2022 Reading the West Prize
Book of the Day, The Guardian
Chicago Review of Books Must-Read Nov 2021
Lit Hub Bookseller Recommended Best of Indie Presses
A Millions Most Anticipated Book of Second Half of 2021
Locus Mag, New Release Pick of the Week
A Millions Most Anticipated of Nov
A Millions, Notable Book of the Week
'The crux of this review is that Pity the Beast is a work of crazy brilliance. It's a worthy successor to William Faulkner and Toni Morrison, and the rare book that creates more space for later writers to work in. Everything McLean does is interesting. She writes dialogue in a way that's truly ingenious, using it as a Greek chorus that often threatens to turn into music...McLean explodes the idea of human society in the first scene, explicitly equating people with beasts, then spends the rest of the novel exploring what it is to be a beast, what it is to be a mind, what it is to be alive. In a literary environment dominated by safe, simple, realist prose, it's thrilling to see a novel with this much intellectual heft and aesthetic fearlessness.
Sandra Newman, The Guardian
"The West as hell on women and horses emerges as a theme in Robin McLean's stunning debut novel, Pity the Beast. The hero of our "garish and transient frontier fiction," as R.W.B. Lewis once wrote, is the American Adam, a conception expanding on Crèvecoeur's definition of the continent's "new man," a breed born into a world without aristocracy, forging the principles of freedom. So what happens when Eve takes the reins? Can she ever enjoy such freedom?"
Caroline Frasier, New York Review of Books
'I have never read a book that made evil seem so natural—which is both the most unsettling thing about this novel and its greatest accomplishment."
Sam Sacks, Wall Street Journal.
'Robin McLean's raw debut novel vividly subverts the conventions of the Western tradition, combining brutal violence with lyrical descriptions of the epic landscape, and the sardonic reflections of animals on the folly of human nature.'
'For any readers seeking their next Joy Williams-esque fix, look no further than Robin McLean's mythic debut novel. With a polyphonic perspective that sweeps across millennia, Pity the Beast is a rip-roaring ride through the American West, an area of the country with no shortage of master chroniclers. Based on the instinctive talent on display here, you can add McLean's name to that list.'
"The novel is as much a spectacle of violence as an exercise in style, a beastly tale as recounted by a metaphysical poet."
Matt Seidel, A Year in Reading, The Millions
'The wheeling-and-dealing narrative sheds what's stale in fiction's conventions and restores dimension to what autofiction flattens out...McLean shows what fiction can do beyond shape and select found material. Her novel is a radically made thing, built sentence by clear sentence, each loaded ominously yet comically, always this razor's edge, with shifting symbolic potential. The tension never lets up.'

Rebecca Starks, Cleveland Review of Books
"This updated Western has echoes of Cormac McCarthy, but its primitive violence is familial and familiar rather than Gothic and bizarre."
Sam Sacks, "A Year of Mirrors," Wall Street Journal
'McLean has created a vast, complicated structure that changes form: Pity The Beast has the feel of science fiction, using both an epistolary narrative and hinting at a morality tale surrounding the current climate emergency.'
"With stunning, gothic prose, Pity the Beast is a suspenseful feminist western and story of revenge that oscillates between a broad worldview of civilization, and the minutiae of a harsh environment."
Book of the Year, Two Dollar Radio
'A category-defying novel of revenge, survival, and transcendence . . . Raw and elemental, searing yet wry, [Pity the Beast] has much to say on law and lawlessness, sexual politics, and humans' animal nature.'
'McLean's novel is equal parts absurd and bleak, a startling story about survival, violence, and the thin divisions between animal and human, perfect for fans of dark, gritty Westerns.'
'The ambitious and innovative narrative moves through time, space and myth in order to explore a larger philosophical canvas beyond the immediate drama.'
Millennia ago, Ginny's family farm was all grass and rock and wild horses. A thousand years hence, it'll all be peacefully underwater. In the matter-of-fact here and now, though, it's a hotbed of lust and resentment, because Ginny's just cheated on her husband with the man who lives next door.
When a crowd of locals—including Ginny's bitter sister Ella—turn up to help out on the farm, a day of chores turns into a night of serious drinking, and then of brutal, communal retribution. By morning, Ginny's been left for dead. But dead is the one thing she isn't. With a stolen horse and rifle, she escapes into the mountains, and a small posse of her tormentors gears up to give chase—to bring her home and beg forgiveness, or to make sure she disappears for good?
With detours through time, space, myth, and into the minds of a pack of philosophical mules, Pity the Beast turns our assumptions about the West, masculinity, good and evil, and the nature of storytelling onto their heads, with an eye to the cosmic as well as the comic. It urges us to write our stories anew—if we want to avoid becoming beasts ourselves.
More at www.andotherstories.org
More author praise for Pity the Beast:
Jim Shepard, Author of Phase Six and Book of Aron:

'Pity is in short supply in Pity the Beast, but compassion is not: set in the kind of country in which ploughs break against hidden rocks and running water is a girl sprinting with a bucket, it's a revenge narrative that never loses sight of the power of empathy, a love song to all of those animals domesticated for our support, a startlingly open-minded meditation on good and evil, a how-to manual on survival in the wilderness, a primer on how to negotiate all of the blind and ruthless violence we're forced to face in a world formed by trauma, and a passionate celebration of those small comforts that can and do get us through.'

Karen Russell, author of Swamplandia!:

'Robin McLean writes scenes that feel as vibrant, terrifying, and wondrous as your most adrenalized memories. Her country is never merely the backdrop for human dramas but a living, breathing entity, alive with the poetry of mules and skittering stone. Pity the Beast is a thrilling ride and McLean's world feels so real that every cloud and creature in it casts a shadow.'

Chris Bachelder, author of The Throwback Special and U.S.!:

'Mythic in scope and vision, ingenious in form and style, Pity the Beast is a magnificent work of art by a fearless and utterly original writer. I read it with wonder and terror, exhilaration and admiration.'

Noy Holland, author of Bird:

Here is a novel that sets [our] species down in its proper plain place: talking animal. Late Bloomer to the Big Window. Robin McLean is unafraid of the grand scale, wary of the luxury of mercy. I read Pity the Beast ravenously, stunned by its savage and glorious turns.

Karen Shepard, author of Kiss Me Someone and The Celestials:

'Robin McLean sees the world like no one I've ever read before. In PITY THE BEAST, her exacting eye gives us human behavior in all of its beastliness while simultaneously reminding us that it's not moral judgment that ugliness calls for, it's even more careful attention. McLean insists that if we face the worst of ourselves, and if we find some way to articulate what we see, we may emerge battered but filled with a compassion we didn't know we had, and didn't know we needed.'

Richard Wiley, author of Tacoma Stories and Bob Stevenson:

'Not since I stood in a Washington D.C. bookstore back in 1992 to read the first few pages of All the Pretty Horses, have I known so quickly and surely that I was in the hands of a writer whose skills and sensibilities soared in a direction both thrilling and foreign to me at the same time. But where Cormac McCarthy uses his gifts to solidify the west we have always known – men on the edge, defining and redefining freedom – Robin McLean turns the tables on him (and us) by putting a woman in charge. Though Pity the Beast is, through and through, a feminist novel, however, there isn't a sentence in it that preaches, not a word that calls attention to its political undercurrents. Robin McLean may be a literary newcomer, but in years to come we might be calling her a literary master.'

Sabina Murray, author of The Human Zoo and Valiant Gentlemen:

'Harrowing, gripping, the product of a deranged mind, Robin McLean's Pity the Beast is a brutally gorgeous fever-dream of a novel. This metaphysical Western feels like something new.'
BK Loren-Cech, author of Theft, Winner of Women Write the West
'A brutally gorgeous fever-dream, Pity The Beast should be used in every MFA program as a reminder of what truly great writing is. Writing is not an accumulative process. It shaves away to the bloody raw core of things—which is exactly what McLean's prose does. Her words transport readers to an unforgiving world of savage beauty. There will be comparisons to McCarthy and Faulkner, and as accurate as they may be, they overlook the fact that Pity the Beast is written from a woman's perspective, the first of its kind in that respect, and that offers a whole new angle to the gruesome violence within the beautiful prose.'
Cynan Jones, author of Stillicide, The Long Dry, Cove
'It's brave to refuse a reader the artificial coherence stories so often rely on, to put the narrative itself at the same mercy as its characters, harangued by a landscape that doesn't care. This book does this unashamedly. Pity the Beast is bold, asperous, and defiant.'

Praise from Booksellers:
Hal Hlavinka, Community Bookstore, Brooklyn

'Like any western worth its salt, Pity the Beast abounds in fiction's elementals: muck and dirt and dust; flies and fire and shit; spirits both mythical and distilled; and, of course, fucking. McLean is a writer of the hard-scrabbled sacred and well-perfumed profane, and her grotesques cry out from their place there on the page. Behold, the heiress to Cormac McCarthy—her pen to the old man's throat, her prose blood-speckled and sun-splattered and all her own.'
James Crossley, Madison Books, Seattle
'Before I'd even finished reading the first chapter I knew that Robin McLean had made an indelible mark on American literature. Pity the Beast sees an unfaithful and unrepentant wife brutally punished and hounded from her home by family and community, setting off a phantasmagoric, slow-motion chase across the landscape of the West. Linguistically rich and rife with fuliginous humor, it re-excavates the ground worked long before by Shirley Jackson and Cormac McCarthy, but creates something unrecognizably new from the ancient bones buried there.'
Luis Correa, Avid Bookshop
'Like a giant mural of the American West, cosmic and brutal in its scope while simultaneously beautiful and vulnerable. Makes use of the terse style of many cowboy narratives to turn the entire genre on its head to tell a feminist story of revenge and nature, myth and joketelling. Wild, surprising, and dizzyingly captivating.'
Josh Cook, Porter Square Books
'Like a film that occasionally skips, this dark and brooding chase through the wilds peeks around present acts of sudden violence, long contemplation, and travel through a landscape that is not interested in human activity into the past, the future, & the disconnected timeless spaces of myths. Imagine Annie Proulx directed by David Lynch. A western for people who realize "The Old West" is a fairy tale.'
Stephen Sparks, Point Reyes Books

'Pity the Beast is a sharp-edged novel, with sentences lined with broken glass. It is merciless as the Old Testament and tender as raw meat. Mostly, though, it's a living, bucking thing that takes the reader for a wild ride into a landscape bristling with elemental forces.'
Josie Smith, Madison Street Books
'An epic adventure that subverts any and all preconceived notions of the Western genre. McLean twists the sharpest edges of gender, philosophy, and the landscape itself into a compassionate meditation on what it really means to survive.'