Get'em Young, Treat'em Tough, Tell'em Nothing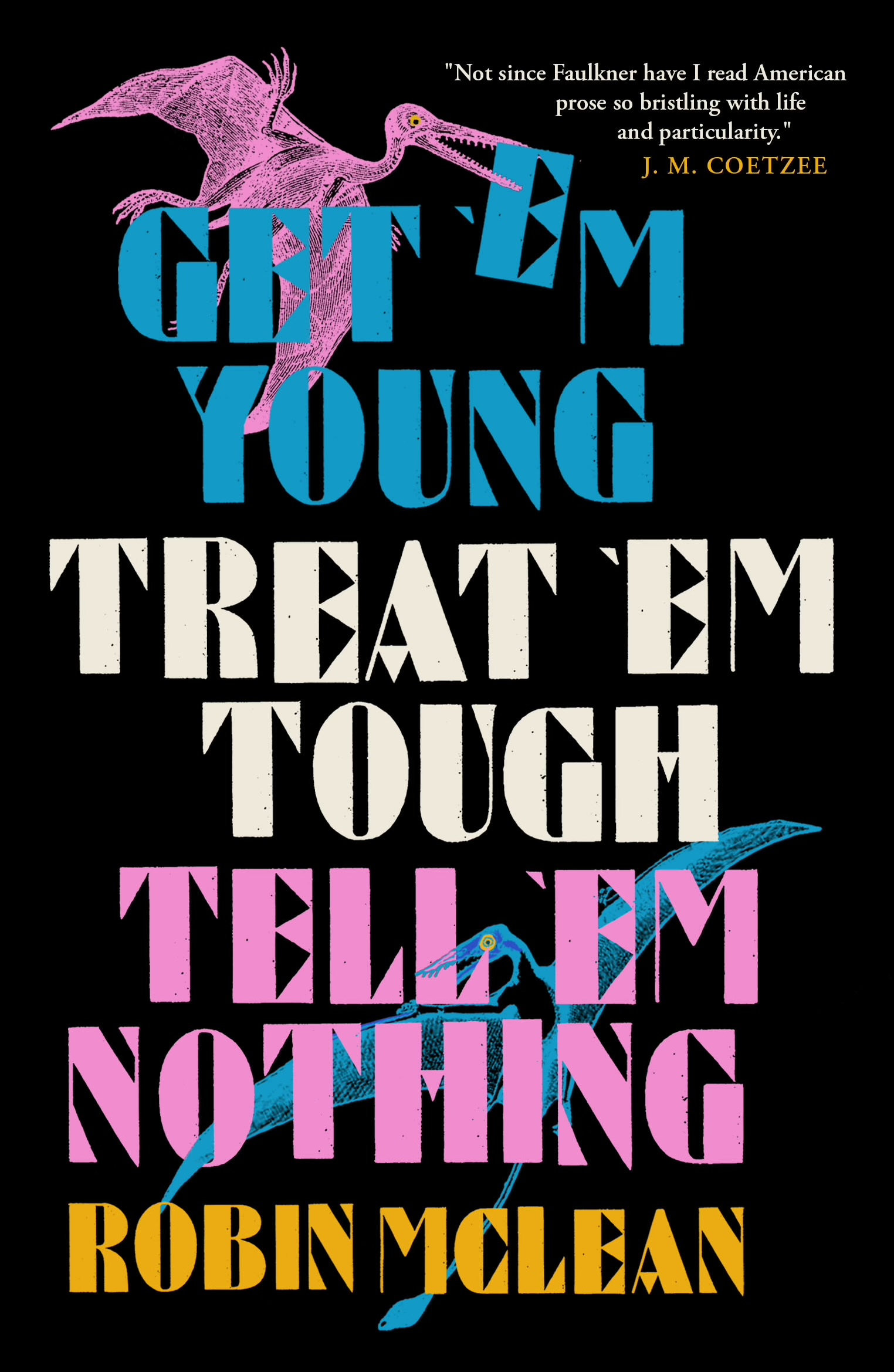 A NYTIMES EDITORS' CHOICE, NOV 17, 2022
David Hayden for THE GUARDIAN
"McLean writes at times with the hyper-keen vividness of nightmare: not surrealism but a kind of American expressionism, like a darker, gristlier Donald Barthelme – grotesque, comic and unsettling....There is a sense of the centre not holding – of American anxiety as a bestowal to us all, as American energy once was...Even outside the violent events in the book, violence is ambient, present in the incomprehensible strangeness of nature – including our own, which puts the book atmospherically, if not theologically, alongside Cormac McCarthy and Joy Williams. There's a suspicion that life force and death force are one." Read the whole review.
Aimee Bender for the NYTIMES:
"[McLean's] prose moves with muscle and rhythm, the dialogue swift and captivating … circumstances are rough, even dire, and people are worn out, angry, smart and stubbornly, vigorously alive … McLean unsentimentally renders their various precipices with incredible energy and humor ... [McLean is] a writer who refuses to unsharpen her vision, whose investment is in the clarity and freshness of the imagery and an honest portrayal of our craven impulses."
Deb Olin Unferth:
'I challenge you to point to another writer like McLean. Her vision is brutal, yet hilarious. We will see her everywhere. These tales are so surprisingly original, so strange and moving, so funny, so irreverent, I swallowed them, I ate them whole.'
John Larison:
'No writer casts a sharper light on the feral edges of the human condition than Robin McLean.'
Dani Shapiro:
'Robin McLean writes with a kind of tender violence, her sentences aimed like fire hoses at a burning world. I loved this collection, and its cast of extraordinary characters will haunt my dreams.'

Cynan Jones:
'Taking each story in was like watching a film, half drunk, just the events and images really sticking. Then some time later finding the sensations there, the emotional consequences, fully formed and ingrained somehow in my head . . . These stories hit you like life hits you.'
More early praise for Get'em Young 
Green Light Books (NYC):
'...a dark, profane, and hilarious, yet ultimately humane collection of stories reporting from the eternal battlefront that is the United States. Ranging across the continent, from Alaska to Missouri, from the flatlands to the mountains, each tale is a snapshot of the political, racial, and sexual undercurrents roiling contemporary life, and each finds a way into the nerves and blood that pulse beneath the question of how to live a decent life. These stories ...fight, flail, and flounder on, fusing severe wit and our crudest desires into the gritty, tender heart of human tenacity.'
"McLean (Pity the Beast) offers up a gritty and well-honed collection of mischief, desperation, and disaster in the American West...With merciless prose and a bold vision, McLean continues to impress."
'Sharp, noirish, thought-provoking stories of lives out of joint.'
Christian Kiefer:
Not since Denis Johnson's Jesus' Son have I read a book of stories that so resonated in my soul. McLean's prose sings with a fierceness that is ornate and sparse, spiritual and secular, peaceful and violent. These are stories that remind of Annie Proulx, Joy Williams, and Flannery O'Connor: surprising in the fundamental weirdness of mundane life pressed inextricably into the borderlands. The best collection of stories I have read in years.'
Joanna Kavenna:
'I loved these brilliant, atmospheric and original stories - Robin McLean is such an exciting writer, and this is her best so far.'
Chris Bachelder:
'These stories, they churn and turn with ferocious pace and a brute subject-verb force. McLean is a writer of pure conviction, unafraid of risk, unconcerned with convention, objective but deeply humane, alive to wonder and strangeness. This collection, like her first, is beautiful and harrowing. I'll say it again and again: Nobody writes like Robin McLean.'

Jim Shepard:
"Robin McLean has always excelled in narrators who communicate their own self-sufficiency even as they inadvertently reveal the extent to which they're actually barely holding it together. They live in places where a bed frame and box spring are just a dream. They remind us that they're still evolving . . . And yet somehow in the face of all of that, her protagonists summon lift, and generate that tenderness necessary to continue. The results are fictions that unite the personal and the political in ways that we need now more than ever.'
Brian Evenson:
'Deeply engaged with the rural, with people on their way off the grid, Robin McLean's fiction is at once fantastical and intensely observed. These are stories about human frailty and darkness, shot through with small moments of glory.'

Kyle Beachy:
'Where so many American writers balk at genuine human darkness, Robin McLean steps inside with a poet's eye and an ill-used gavel she swiped from the decaying desk of some corrupt, abusive judge. The results are gripping, chilling, and far too realistic for the term. These ten modern parables lay bare our species' manifold predicaments here in the dimming light of imagined futures. An unforgettable book.'

Josie Smith, Greenlight Bookstore:
'Get Em Young is a series of dispatches straight from the trenches of modern survival, where no one secures the life they were promised yet they fight, flail, and flounder on all the same. Fusing severe wit and our crudest desires into the gritty, tender heart of human tenacity, McLean writes about enduring hope and disillusionment like no one else.'